5G And The Aviation Industry: Why The Rollout Was Problematic And What's Happening Now

On January 19, 2022, more than 300 flights were preemptively canceled when it was announced that  AT&T and Verizon Communications must delay the plans to use C-Band spectrum for 5G wireless services, United Airlines Chief Executive Scott Kirby said following a U.S. Senate Commerce Committee hearing, saying it could delay, divert or cancel about 4% of daily flights and impact hundreds of thousands of passengers.
"It would be a catastrophic failure of government," Kirby told reporters.
The aviation industry and the Federal Aviation Administration (FAA) have raised concerns about potential interference of 5G with sensitive aircraft electronics like radio altimeters
Before the blockbuster auction of the new 5G C-Band frequencies, which the FCC auctioned off more than $81 Billion in February 2021, the Radio Technical Commission for Aeronautics (RTCA) published a study in October 2020 based on computer modeling at Chicago's O'Hare Airport.
The RTCA found that this new frequency band would cause, "harmful interference to radar altimeters on all types of civil aircraft—including commercial transport airplanes; business, regional, and general aviation airplanes; and both transport and general aviation helicopters."
"People got serious about it in the last couple of months, and we've been raising the flag on the issue for two years," says Terry McVenes, President and CEO at RTCA.
As a plane is coming in for a landing, the radar altimeter is especially important in the lowest 2,500 feet. It sends a signal down to the ground that is then reflected and picked up by an antenna on the plane's belly. The time it takes to go down and back up is converted into an altitude by the flight computer.
The radar altimeter is heavily relied upon during low visibility landings or autoland.
Radar altimeters have used a range of frequencies between 4.2 and 4.4 GHz since they were initially developed in the 1950s. The new 5G C-Band sits at 3.7-3.9 GHz. Close enough, the FAA said, that unintended interference may cause faulty readings if a 5G tower is too close to an airport.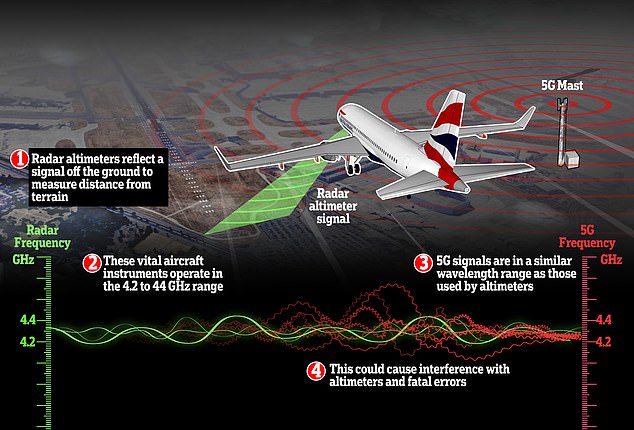 "The 5G is very close to the frequencies for, specifically, the radar altimeter which then affects a whole host of subsystems, most of them safety-related," explains Leland Shanle, an airline pilot and retired Navy test pilot.
The cancelations could have been even worse. The FAA, AT&T, and Verizon struck a deal late in the day on January 19 to create a two-mile buffer zone near active runways.
Why was an agreement to a two-mile 5G buffer zone around airports agreed to at the last minute? At a House Transportation and Infrastructure Committee hearing in early February, FAA administrator Steve Dickson explained the data sharing that led to that agreement with the telecommunications companies had never been done before.
"The data we were asking for from them they had never provided to the government before, so that really was where we started from in late December and early January," Dickson explained.
"They just let the 5G come out too soon. I don't know who dropped the ball, there's probably a lot of blame to go around, but all of the sudden it was there, and everybody was startled, to say the least, when it started affecting systems," says Shanle.
So where do we go from here? Both agencies agree: a complete breakdown in communication can't happen again.
"You gotta share that information, you gotta work these things together because it's gonna come up again, this is the tip of the iceberg," says McVenes.
The FAA promises better processes are being put in place in collaboration with the FCC, but that doesn't stop the inevitable expansion of the 5G C-Band rollout in the future.
Right now, the FAA is working in coordination with the FCC and engineers from telecommunications companies to conduct test flights to study the impacts of 5G on radar altimeters.
The RTCA, which developed the initial standards for radar altimeters in the 1950s, is in the process of developing new standards with the FAA to make altimeters more resistant to interference from the lower frequencies
"The work that we're doing in developing this new standard has to be put on a fast track," McVenes says. "We have to get the resources, people primarily, resources from the manufacturers, people resources from the FAA, our resources, and do a full-court press to get this new standard out in the shortest amount of time that we can."
FULL RTCA Report: Assessment of C-Band Mobile Telecommunications Interference Impact on Low Range Radar Altimeter Operations
Contact Us To See How We Can Assist You Today!